300 Hours Ayurveda Yoga Teacher Training In Rishikesh India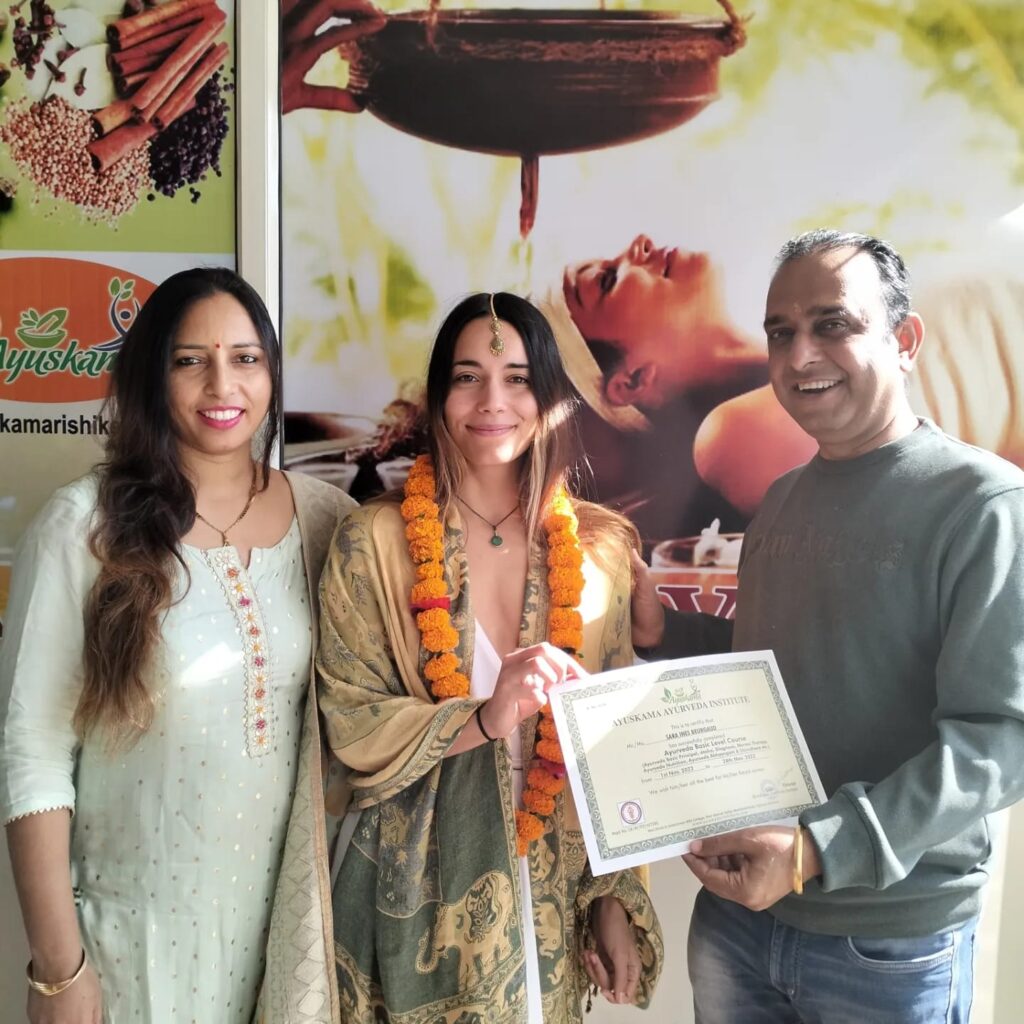 300-hour ayurveda yoga teacher training in Rishikesh India is an intensive yoga course. This program is ideal for new or intermediate yoga students who want to experience and learn fundamental yoga in the land of yoga. This program is 4 weeks long and is based on the principles of traditional hath yoga and ashtanga yoga. At Ayurkama Rishikesh, you'll learn about the science behind yoga with comprehensive knowledge of theoretical as well as practical aspects of yoga. Students will learn about vinyasa yoga, ashtanga yoga, yoga philosophy, anatomy, pranayam, breathing exercises, and different types of meditation. If you want to learn "real yoga" you should go for our 300 hours of Ayurveda yoga teacher training, our ashram has a quiet and peaceful atmosphere which helps in building focus and flow and helps in the transformation of body and mind.
Ayuskama Yoga school offers 300 hour Ayurveda Yoga Teacher Training Program in India provides a great opportunity for you to explore, and deepen your existing knowledge of yoga. The yoga course of 300-hour Ayurveda yoga teacher training structure is somewhat similar to the 200-hour course but its advance level steps forward to further expand on general and specific topic discussions regarding each subject. 300-hour yoga Ayurveda teacher training course to deliver the greatest results during in 4 weeks course program, allows the students to take a dip deeper into the Yoga world. Give a professional edge to your qualification of 300 hour Ayurveda Yoga Teacher Training with this advanced Yoga Alliance certified Yoga course. The way to tranquility & complete freedom was never paved so clearly before. 300 Hour Ayurveda Yoga Teacher Training in Rishikesh India.
Advanced techniques and practice of yoga
Advanced hath asana, kundalini, and tantra kriya. 
How to blend and work with 7 different yoga styles (7 sattvas) 
Learning about advanced meditation practices 
Learning about teachings of healing of mind, body, and spirit. 
Learning about the purpose and benefits of all the yoga techniques
Basic Sanskrit and mantras practice
You'll learn the Sanskrit mantras, their pronunciations, their meaning, and how you can use them with your yoga and meditation practices. Students will get the opportunity to deep dive into advanced mantras practices and learn about the science of incorporating Naad in the classes to give students a practical and deeper experience. Ayuskama has been well-recognized as one of the most renowned institutions offering yoga and Ayurveda as a therapeutic medium for a healthy body, mind, and soul. 
Learning teaching methodology
The 5 principles of teaching and 7 waves(7 distinct yogic tradition and their techniques). Studying transformational effects and learning how to blend them together with vinyasa krama. We incorporate different techniques to expand the range of our classes and the learning experience of students. . Moreover, our yoga school has been registered with Yoga Alliance USA and Yoga Alliance International offering you recognition of being a certified yoga teacher after successful completion of our teacher training program.
About 300 Hours Ayurveda YTTC
Yoga lifestyles and ethics 
Yoga sutras of patanjali 
Chakras and energy channels 
Learning about yoga darshan 
Eight limbs of ashtanga yoga 
Learning about Trigun – sattva, rajas, and tamas. 
Learning about 4 paths of yoga –   jnana, raja, bhakti, and karma yoga.  
Learning about karma and reincarnation 
Learning about Ida, Pingala, and Sushumna Nadis 
Satsang
Satsang combines learning about many things like chanting, meditation, Japa, mantras, nada yoga and music, diet, food, nutrition, philosophy, Vedanta, and practical skills for conducting Satsang. Deep learning and explanations are also a part of the Satsang classes so that students can understand its core aspects and usefulness.
Group Practicum

These classes are for observation, learning, and practice. Classes are conducted in a small group setting which helps hone teaching skills and help them prepare better for their presentations. These classes also teach focusing on adjustment, themes, and music. 
Advanced pranayam practice ------
Learning about yogic breathing techniques 
Learning about ujjayi pranayam 
Learning about bahastrika pranayam 
Learning about kapalbhati pranayam 
Learning about nadi shodhan pranayam 
Learning about Bharamri pranayam 
Learning about Surya bhedi and Chandra bhedi pranayam 
Learning about sheetali and sheetlari pranayam 
Learning about yogic breathing and diaphragmatic breathing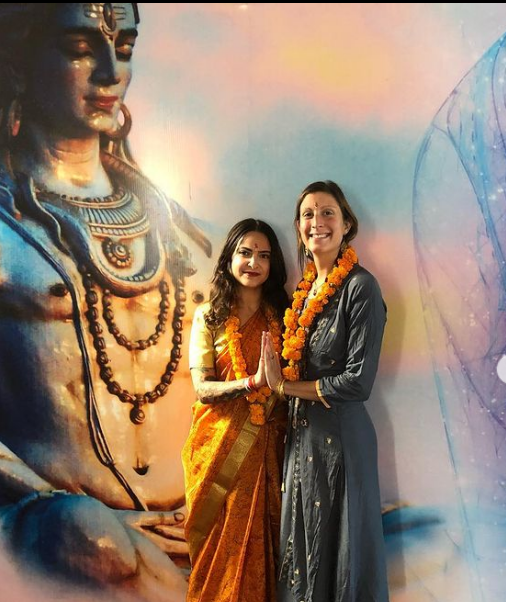 Self-Studying And Practicing
In these classes, daily students have to self-study and practice yoga teachings 
Ayurveda Course syllabus include
1. Introduction to Ayurveda
Definition Unique features Concept of health Aim
2. History of Ayurveda
3. Branches of Ayurveda
4. History & Philosophy of Ayurveda
5. Basic principles of Ayurveda
Pancha Mahabhuta Concept
Tridosha Concept( vata, pitta. Kapha)
The concept of Sapta Dhatu (Body Elements)
The concept of Mala (Waste Products)
The concept of Srotas (Body Channels)
The concept of Agni (Digestive Fire)
The concept of Koshta (Alimentary Tract)
The concept of Prakruti (Body Constitution)
Concept of Vikurti
The concept of ama(metabolic toxins)
6. Preventive medicine & Health preservation in Ayurveda
7. The concept of Ayurveda nutrition
8. Basic introduction of authentic Panchakarma
9. Common used oil & Herbs
10. Marma therapy.
Abhyanga (Ayurvedic Body Massage)
Ayurveda cooking
Marma therapies
Elakizhi (Bolus Bag Massage with Medicinal Leaves)
Podikizhi (Bolus Bag Massage with Medicinal Powders)
Navarakizhi (Bolus Bag Massage with Medicated Rice& milk)
Shirodhara (Oil Treatment for the Head)
Thakra Dhara
Ksheeradhara
Katee vasti (Local Treatment for Low Back Pain)
Greeva vasti (Local Treatment for Neck problems)
Janu vasti (Local Treatment for Knee joint Pain)
Herbal Steam Bath
Ayurvedic Feet Massage
Shiro Abhyanga (Traditional Indian Head Massage)
Ayurvedic Face Massage.
After Completing The Course You Will Be Get Two Certificates. One For 200 Hour Ayurveda Yoga Teacher Training Course From Yoga Alliance USA And Another For Ayurveda Course From Ayuskama Ayurveda.
We are teaching yoga to local and international students for many years. Our 300 hours yoga teacher training program is ashtanga yoga, Vinaya, hath yoga, basics of ayurveda, and core aspects of real yoga.
Ayuskama Ayurveda and Yoga Institute in Rishikesh offers a one-of-a-kind 300 hour Ayurveda yoga teacher training in India. That is because, at the end of the course, you receive not one but TWO training certificates:
300-Hour Yoga Teacher Training (issued by Yoga Alliance, USA)
One-month Ayurveda Course (issued by Ayuskama)
Students get practical knowledge and the opportunity of teaching. Students learn to teach one-on-one and then develop the confidence to teach to large groups. Classmate and teacher feedback helps our students learn from each other. As a student at Ayurkama, you'll gain a great deal of knowledge about yoga and become confident and knowledgeable about teaching yoga to beginners.
Fill out the form if you wish to register for the Ayurveda Yoga Teacher Training Course. If you would like more information about our Ayurveda Yoga Teacher Training Course, you can contact us by phone or WhatsApp at +91 8445889122 or +91 9917317388. 
300 Hr Ayurveda Yoga Teacher Training program live dates 2023 - 24
300 Hour Yoga Teacher Training in Rishikesh
Syllabus of Study for 300 Hours yoga course Advanced Hatha and Ashtanga techniques
Advanced Pranayama techniques
Bandhas (Yogic locks)
Mudras (Yogic Gestures)
Advanced Shatkarmas/Kriyas (cleansing techniques)
The deep study of Human Anatomy and Physiology
Principles for sequencing Hatha, Ashtanga
Study of Ayurveda – Panchakarma, seasonal regimen, nutrition, and the yogic diet
Advanced mantras (for Chanting and Meditation)
Yoga Philosophy (eight limbs of Ashtanga Yoga) with Patanjali's Yoga Sutras
Teaching Practicum
Ethics for Yoga Teachers
Yogic lifestyle
Our Other Yoga Course
Course Date

Accommodation Fee

Registration
Course Date

Accommodation Fee

Registration
Courses Registration Fees 200 USD + 10 USD Handling Fee
Our PayPal ID is ayuskamarishikesh@gmail.com
Shatkarma accessory (Cleansing techniques), Deposit instructions and details will send to you on your acceptation. Payment methods (Bank transfer /pay pal/western union). The rest of the payment will be payable on admission day.
Including With The Course :
Ayurveda &Yoga course material
One notebook,
One day out tour to the nearby location
Ayurveda pulse diagnostic consultation with our Ayurveda doctor
Twin sharing room with attached bathroom
Ayurveda & Yogic meals three times a day
2-3 time herbal tea
Yoga Alliance certificate
Terms and Conditions: Please Read Carefully
Refund Policy: the Deposited fee is non-refundable, but it is transferable to another upcoming training course.
At least 90 % of attendance of student is compulsory for doing the course.
Tamsik food like Non-veg food, smoking, drinking any form of alcohols is restricted in yoga school.
We have limited seats available for short-term yoga courses and retreats, therefore, booking in advance is highly recommended.
The daily schedule is subject to change depending on conditions.
If you have any questions related to Registration, Payment, Visa or any other query about our Ayurveda Yoga teacher training in Rishikesh, please contact us at Ayuskama Ayurveda Rishikesh email: ayuskamarishikesh@gmail.com
Mob-+91-9917317388  +918445889122